Introduction: Why Naming Convention is Important for the Success of a Business
keywords: data naming, data conventions, data naming convention, error prevention
A naming convention is a set of rules to follow when naming network elements, MSS, HSS, eNodeB, links, VPN, etc. A data and/or element naming convention can be implemented to have consistency and simplicity when it comes to naming the things in the network.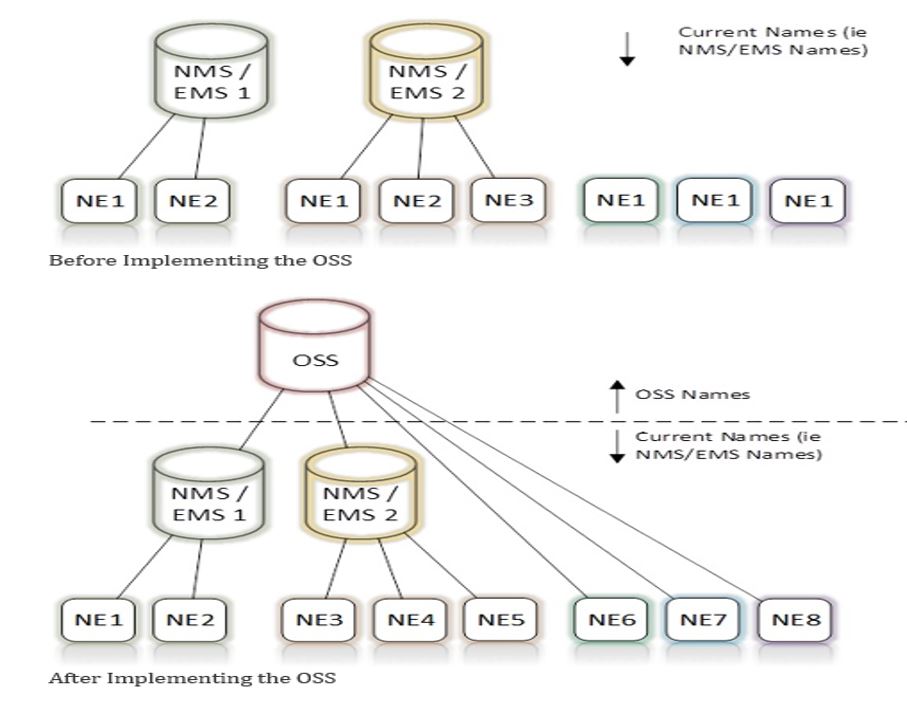 Picture taken from-https://passionateaboutoss.com/background/naming-conventions/
The names of the elements in the network that are physical or virtual and or links or the names of Element Management Systems (EMS) must be unique from each other. The most important reason for this is that when a central network management system in otherwords OSS is desired to be placed, these names defined in the network are perceived as object names in the OSS database. The above picture explains this nicely. It is extremely important in terms of the integrity and integrity of the data. The data naming convention should be tailored to the specific needs of each organization and should comply with any existing standards or policies that exist elsewhere in an organization. Hence, object names should be set to a certain standard and should also be designed to be informative. Such as converting network element names into a site, a region etc.
The limitation of the equipment and naming convention should be respected when giving the numbers for it. A synchronisation hierarchy should be clearly defined, i.e., from where the MSC/MGW, etc.
Parameters related to the call destination, and the route it takes to reach the destination, are required. The call may be routed through one or more than one sub‐destination which need to be defined in the naming conventions. Also, the parameters related to load sharing have to be clearly defined. Based on these parameters, the call will take the shortest route to reach the desired destination. The parameters generally include the name destinations (sub‐destinations), route identifiers, types of calls, etc.
When the networks are rolled out, mismatch in the naming conventions may happen. One of the outputs of the optimisation process is to clear the 'naming mess' and naming convention should be done in a manner that is similar in the whole network.
Use naming conventions that are strong and match your Network Management Solution.
To achieve a healthy network, it is essential to implement and maintain a clear naming convention, but if you want your network to stay healthy, you'll also need to invest in some Network Management Solution. TTG provides a reliable and intelligent Network Management Solution that can be tailored to your needs.
As a result, the first thing that CSPs should do is to make sure that all the software they install on their networks is working correctly and without errors. They must do the naming convention job that will make their lives easier from the very beginning. The objects must be well defined (i.e., a common naming convention needs to exist for addressing the managed and management objects).