Keywords: role of OSS, telecommunication, operational support systems, business support systems, telecommunication industry, Telcos
The Role of OSS in Telcos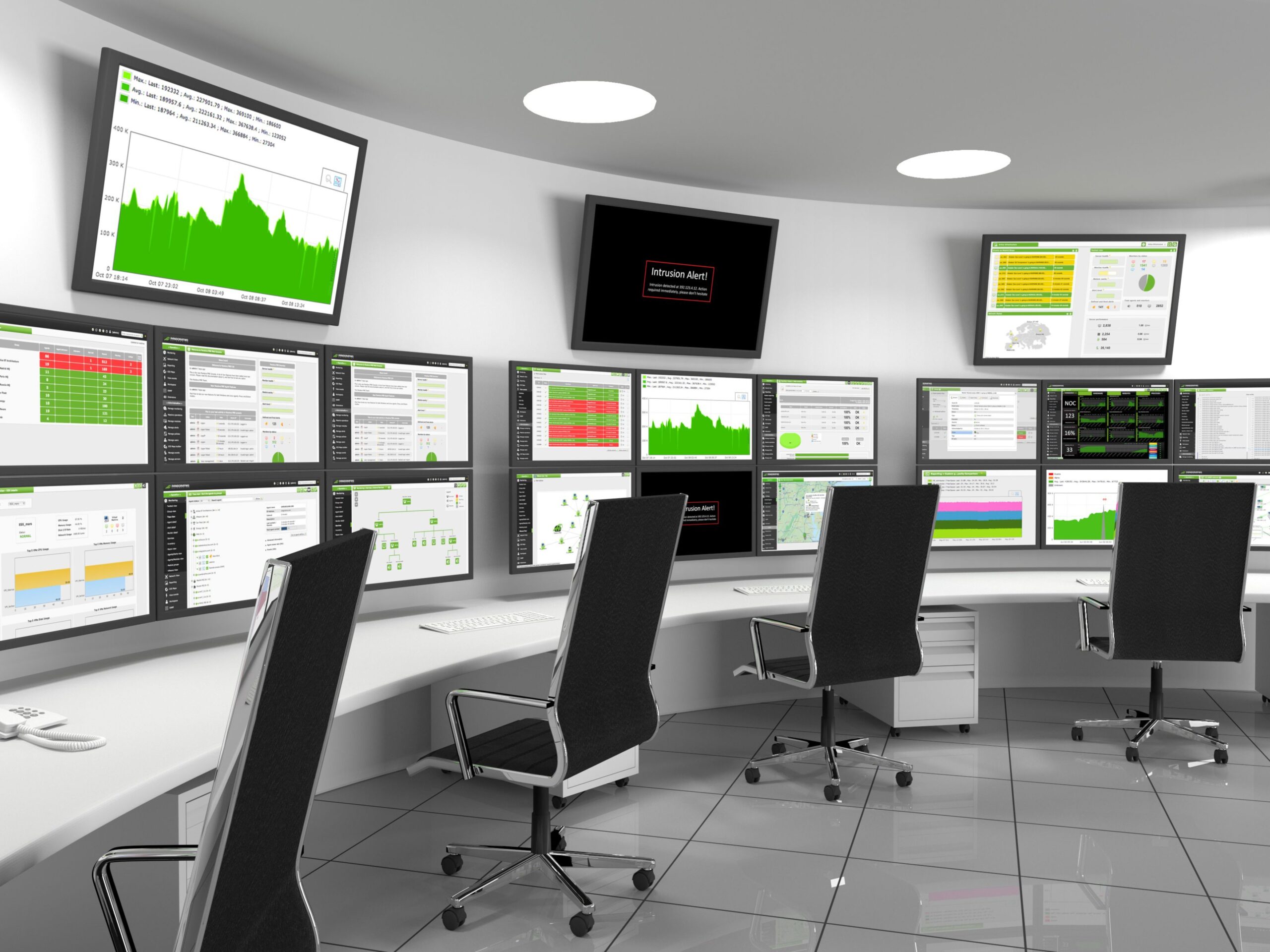 OSS in NOC room
When the telecommunication sector was new, it lacked advanced operational capabilities. However, with the advent of computer systems, carriers started to take advantage of better processing capacities by creating software to manage their extensive subscriber databases and networks. This was the beginning of the development of the operational support system (OSS).
OSS is essential for ensuring that telecommunication networks and specific services are productive, efficient, and effective. This technology works in tandem with business support systems (BSS). In this article, we'll discuss OSS in detail and explain its role in the modern telecom sector.
What Is OSS?
OSS in the telecom industry is crucial in the evaluation and upkeep of the quality of telecommunications networks and comprises specialist software tools. They are utilized for all operational tasks associated with telecom site administration, including deployment, analysis, monitoring, and configuration.
Network operation team and managers, rollout and build teams, networking planners, application designers, and engineering teams are among the groups that frequently use OSS. Senior executives also use OSS. Although OSS covers a wide range of technical network management procedures, its underlying goal is ensuring the network is effective, services are lucrative, and consumers are satisfied.
The Role of OSS in Telcos
This system is the back-end support system for all operational activities inside a mobile network. This is so that it may monitor, analyze, design, and control the operational activities within a network using specialized hardware and software.
Every mobile network's architecture must have OSS, which uses a variety of cutting-edge programs to track the health and efficiency of the network. This includes:
The provision of and help with communication services
Operations involving the infrastructure and technology
How the network and its services are operated
Automating operational tasks improves efficiency, dependability, and output.
Thus, OSS can be used to track down and notify Telcos of any urgent network issues that require attention. This system may also be operated remotely, giving you access to data immediately on the mobile network, which is necessary for monitoring KPIs, productivity, progress, and reporting needs. OSS consists of many apps a service provider needs to carry out "back-office" tasks.
The OSS environment of the service supplier will consist of numerous OSS applications, each in charge of managing a particular aspect of how the organization runs. OSS apps are function-specific, controlling aspects of the overall operations process, including fault monitoring and service request fulfillment.
Without OSS, mobile carriers would not be capable of overseeing the network's ongoing repair needs and operations. This would result in subpar performance, inadequate customer service, delays, and many unsatisfied clients. Thus, the OSS ensures that telecommunications companies can deliver and sustain client services.
How Can the Network Be Managed Using OSS?
Telcos must manage communication networks with various devices. To do so efficiently, they must be aware of the devices' network connections, where they are located, how customers use the devices, and their transactions, and be capable of monitoring them to avoid faults or issues.
These points must be managed and tracked by Telcos with the help of OSS. Using the FCAPS guideline for network administration, this system maintains service performance and gives a great customer experience. Below we have explained how FCAPS works.
FCAPS Guide
FCAPS are acronyms for fault, configuration, account, performance, and security. FCAPS is a network management system developed by the International Organization for Standardization. The main aim of the model is to understand the primary function of network management programs more comprehensively. Each element of FCAPS is explained in detail below.
Fault Management
When technology fails, things will go wrong. For example, the accidental reconfiguration of one object may result in the breakdown of another. The goal of fault management is to identify issues and react to network alarms. A large aspect of fault management is monitoring problems reported by the network devices or the consumers through resolution. Trend analysis can be added to fault logging to foretell mistakes or irregular network behavior.
Network devices can propagate problems to more advanced network management layers, offering advanced features like root cause analysis. In addition, fault remediation actions may be prioritized using fault severity analysis.
Configuration Management
Devices must be configured to perform as needed and communicate with other networked devices. Since the maintenance engineer may be hundreds of miles away from a device, most of it must be operated remotely. Minor performance improvements, new client services, upgrades to connect new network segments, and powerful software or firmware modifications are all examples of configuration.
Account Management
Account management tries to compile user statistics so billing parameters and usage caps can be controlled. The most widely used protocols for accounting management are TACACS and RADIUS. Accounting involvement from OSS is becoming more and more necessary.
A deeper awareness of how various devices provide a service throughout the network is necessary for more complex services, especially those with SLAs. As a result, staff responsible for account management will receive data from fault and performance management. The letter A in FCAPS may, in some circumstances, stand for administration, which is the control of approved network users, permits, and operating processes. The letter A in FCAPS can, in some cases, mean management with control of approved network users, permissions, and operating processes. In the sense of OSS and EMS, the letter A expresses this meaning.
Performance Management
Performance management involves using statistics to ensure that network equipment and telecommunications services are operating properly and providing the features for which they were designed. Some KPI's like; Signal strengths, mistake rates, latency, resource utilization, and other factors are tracked as part of the performance management cycle. It is crucial to control and comprehend the customer service experience since performance management may greatly impact how customers feel.
Security Management
Only authorized personnel should be capable of setting up network devices or services. Thanks to security, customers only need to access services they are authorized to utilize. The functions of security and configuration management overlap in contemporary networks: Clients receive services from multiple locations and use multiple devices as services are much less fixed to a specific place or device. Being hardwired to a single location or terminal no longer provides services with the essential security they formerly did. Every time a customer uses the network, security should be maintained.
Benefits of OSS
OSS installation is essential to service management and telcos' ability to deliver services to customers safely and effectively. OSS is effective for both complex and minor networks, as it provides for the administration of thousands of devices across regions, various device manufacturers, technologies, clients, tasks, and initiatives.
As a communications service provider, you can utilize and adapt this system to meet your specific requirements since it offers flexibility, speed, durability, and innovation. The user experience will be significantly impacted by this technology and will be improved by:
Enabling you to develop fully personalized self-service solutions for your business clients to meet their unique requirements
Enabling the quick and effective detection of network-related issues that might negatively affect user experience
Enabling automated service delivery, including consumer self-service, which decreases the need for contact centers and improves customer interaction
Providing new services in a timely and accurate manner gives telecom businesses an advantage.
How Are OSS And BSS Integrated?
OSS and BSS are frequently used in the telecom industry since they are the main contact points for managing the entire site portfolio. They work together to help telcos increase efficiency and boost revenue. The key difference between OSS and BSS is that OSS handles the network and operations side of the telecommunication sector while BSS is responsible for the customer and business side.
For telecom infrastructure providers, statistics, cloud computing, autonomous business operations, and software-defined business requirements work together to maintain continuous network capacity and reliable quality of service.
OSS often passes different service requests to the BSS and provides service assurance data. BSS supports numerous business tasks, such as advertising, product offerings, sales, licensing, and service delivery. It also handles the business aspects related to telecom site management to secure income and control quality.
Final Thoughts
In a nutshell, operational support systems are tools that oversee and control extensive communication networks. All service providers must use OSS due to the difficulty of managing an effective and profitable network. This system oversees all aspects of the mobile network capabilities, guaranteeing that they operate at peak performance, including defects, performance, setup, accounting, and security.
By implementing OSS, Telcos may improve service assurance and make sure that their clients are receiving the customer care they require, which lowers churn rates and increases profitability. OSS and BSS work together in Telcos to manage network requirements and customers' needs.