Very Small Aperture Terminal (VSAT) technology has revolutionized the way we communicate, offering a myriad of applications across various sectors. This blog post aims to provide a comprehensive overview of VSAT systems, exploring their basic principles, components, and installation procedures, ensuring a thorough understanding of this vital communication technology.
Understanding VSAT: The Basics
VSAT, an abbreviation for Very Small Aperture Terminal, refers to a type of earth station that establishes a communication link via satellite using Radio Frequency (RF) links. These terminals typically feature antennas of varying diameters and serve as crucial communication links for establishing a satellite-based communication network. VSATs are versatile, capable of transmitting and receiving voice, data, and video signals.
Key Components of a VSAT System
VSAT Outdoor Unit (ODU):
The ODU is typically positioned near the antenna systems outdoors, hence its name. It encompasses several critical components:
Antenna System: Houses the reflector, feed horn, mount, and cables. The antenna sizes usually range from 1.8 to 3.8 meters in diameter.
RF Transceiver: Comprising Up/Down converters that convert frequencies from Intermediate Frequency (IF) to RF frequencies and vice versa.
Power Amplifier: Amplifies the signal before it is transmitted to the feed horn of the Antenna system.
Low Noise Amplifier (LNA): Amplifies the received signal from the satellite, designed to amplify the signal without amplifying the noise.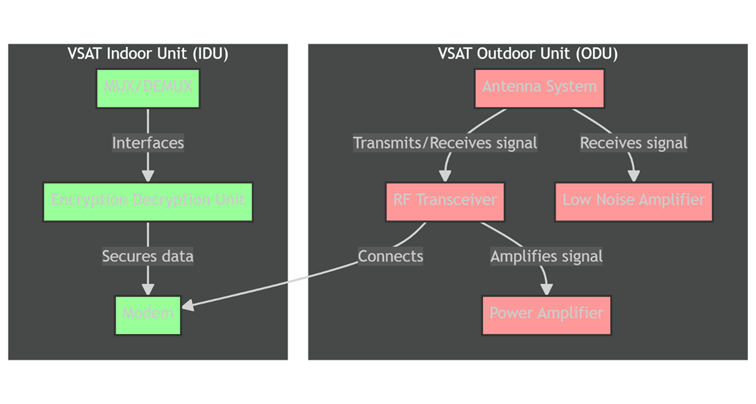 VSAT Indoor Unit (IDU):
The IDU, located inside a building, comprises:
MUX/DEMUX: Interfaces with end-user equipment like computers, telephones, or sometimes with EPABX and LAN or router, multiplexing channels using Time Division Multiplexing (TDM).
Encryption Decryption Unit (EDU): Provides security by modifying the information to be transmitted and decrypting received information.
Modem: Performs modulation and demodulation functionalities, inserting information on an intermediate frequency (IF) and employing Forward Error Correction to enhance the Bit Error Rate (BER).
VSAT Installation Procedure:
VSAT installation is a meticulous process that involves several steps:
Step 1: Unpack all subsystems, including Antenna and accessories, Feed Horn, OMT, BUC, LNB, Satellite Modem, MUX, and EDU.
Step 2: Mount the Antenna along with support, ensuring not to tighten all the screws initially.
Step 3: Determine the satellite latitude and longitude for VSAT tuning. Calculate the required Azimuth and Elevation for antenna alignment using calculators or manual calculations.
Step 4: Align the antenna using the calculated Azimuth and Elevation angles, ensuring accurate pointing towards the Geo satellite.
Step 5: Connect the ODU and IDU using a coaxial cable, ensuring the length is approximately 300 foot (around 90 meters).
Step 6: Perform a Cross Pol test and fine-tune the antenna for optimal signal quality.
Step 7: Complete the installation by securing all connections and conducting a final system check.
VSAT: A Vital Communication Link
VSAT systems have become indispensable in establishing communication networks, especially in remote areas where terrestrial connectivity is limited. They provide a reliable communication link, ensuring data, voice, and video transmission even in the most isolated locations.
VSATs are integral in various sectors, including telemedicine, remote education, banking, and more, ensuring connectivity and communication are uninterrupted and reliable. The meticulous design of VSAT systems, from the strategic setup of the outdoor and indoor units to the precise installation process, ensures that communication remains steadfast, bridging gaps and connecting the world in the vast expanse of the digital age.
In conclusion, in a world where communication is paramount, VSAT systems stand out as a robust and reliable solution, ensuring that no matter where you are, you stay connected. From the intricate components that make up the indoor and outdoor units to the precise installation procedures, VSAT technology exemplifies the marvel of human ingenuity in the realm of communication technology.
Incorporating VSAT into various sectors has not only enhanced operational efficiency but also ensured that geographical barriers are no longer a hindrance to seamless communication. As we continue to explore and innovate in the realm of satellite communication, VSAT systems will undoubtedly play a pivotal role in shaping the future of global connectivity.