Why Network Topology is Important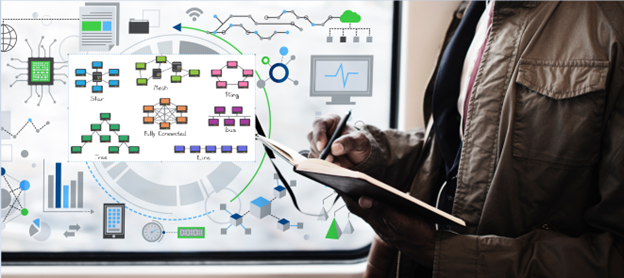 Network Topology and Data
Networking plays a vital role in this technology-driven world. It allows computer systems and other devices to stay connected and share information. However, there must be some guidelines or models in place to connect devices in a network. This layout or configuration is referred to as network topology.
The concept of network topology is important to understand because it will allow you to implement networking connections correctly and effectively. In this article, we will explain the practical details of network topology, describe some common types of topologies, and discuss the benefits of network topology
What is Network Topology?
A network topology is a significant network configuration where all nodes are linked to one another via network links or connection lines. Network topology also illustrates how data is moved in a network, in addition to the connection of the nodes.
The physical and logical topology of a network can be distinguished from one another. Devices are represented as network nodes in the topology charts, and links between them are represented as lines. Many types of network topology are used based on how the network has to be set up,
Physical topology is based on the connections between nodes. It provides a general overview of every cable, wiring, and network component and shows how they interact together. Besides physical topology, there is a logical topology. It contains a summary of the data's movement via your particular network. Logical topology examines how devices interact with one another and how much information moves between the points.
Now that you know the basics of network topology, let's look in detail at the importance of topology for your business or company.
Why is Network Topology Essential?
A network's functionality is significantly influenced by its topology. A correctly planned and operated network topology improves energy consumption and data transmission speeds, which can greatly enhance performance.
Network topology helps you understand two important aspects of your . It enables you to become familiar with important parts within your network and their subsequent connections.
Additionally, it displays their interactions and what you can predict from their performances. The secret to topology, thus, is performance management, regardless of the size or structure of a network and its many components.
Some benefits and effects of having a network topology are listed below.
Cost-Effectiveness
Cost-effectiveness is arguably one of network topology's most significant benefits. You can identify inefficient network operations using a clearly defined roadmap. You might even be able to get rid of some components from the cycle completely.
A more active workforce results from having an effective topology. In addition, using a network topology plan may help you produce higher quality in less time. It will lead to increased profits and greater capacity to meet demand, which will help you scale your company.
Easier To Understand Networking Concepts
A topology will help you learn or comprehend the value of networking ideas. Many people find it challenging to understand how a computer/IT and 5G network truly operates. Therefore, topology is a key component of network design theory.
Using topology, you may set up a home network or create a small business network. You don't need a plethora of knowledge to accomplish this. Generally, topologies can give you a more precise understanding and familiarity with fundamental networking concepts like hubs, routers, and broadcasts.
Topology Diagrams Enable Good Communication
You can design viable systems with a good topology that functions effectively. Using these systems as a point of reference can be beneficial. Topology diagrams are important and serve as excellent roadmaps in this situation. You can employ topological diagrams to create templates for employee and client communication that runs more smoothly.
These procedures allow everyone to align with the same idea. Greater accountability is also possible if everyone understands the connection between cause and effect. In addition, diagrams can be used to construct instructions and guides. Therefore, if you want to increase revenue for your company in the modern era, these topology diagrams are a must-have resource for you.
Ease of Training 
Without explicit network control, onboarding new employees and engineers is rarely easy. Topologies can serve as a guide for figuring out how everything is connected. It will be more advantageous for you to interact with experts. It is possible to create a topology that serves as a guiding diagram.
Additionally, this can assist engineers unfamiliar with your system in understanding the potential implications of each incident. Thus, they will be able to quickly get the hang of the network connections.
Network Health Diagnostics
With the help of network topologies, you can identify issues in your network. For example, if you are experiencing packet loss in a network at points A through E, you will be able to identify weak links in the chain by running a network diagnosis. You can narrow down the field, for example, points B and C, and make the required changes to fix the problem.
Recognizing the network topology upfront will allow alarms and events, KPIs that are discovered on your network to be correlated more accurately, which will help tools like GEMS find the 'root cause' quickly and accurately. It also makes it possible for you to monitor, manage, and optimize your IT and 5G environment more effectively.
Types of Network Topology
Networks can be created on a wide variety of topologies. Ring topology, bus topology, mesh topology, star topology, and hybrid topology are a few of the crucial network topologies. Let's look at how each of these works and their importance.
Ring Topology
The nodes are connected in a closed-loop manner in this network topology. Some rings can only send data in one direction, while others can work with important data in
both ways. Ring topologies can reduce the likelihood of packet collisions since they use token-based systems, which only permit one station to communicate data at any given time.
Data can pass across network nodes at incredibly fast speeds, which can be increased when more nodes are deployed. Additionally, dual-ring topologies offer enhanced security since they are more resilient to failures.
Bus Topology
Each device in a bus topology network is linked to one cable that connects both ends of the network. Line topology is a common name for this kind of network topology. In smaller local networks, bus topologies are frequently employed. They maintain the layout simply, which is one of their key benefits.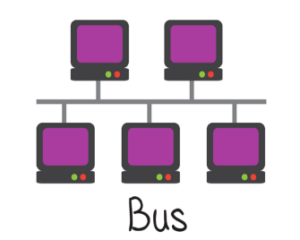 You do not have to manage a complicated topological configuration because every device is linked to a single cable. Bus topologies can run with just one cable due to the layout. If additional devices are required, you can simply connect to another cable.
Mesh Topology
The mesh topology connects nodes by connections, allowing for the availability of different paths. If all the nodes in a network have a direct connection with each other, the

network is completely meshed. When only a few nodes are connected to each other, the network is said to be partially meshed. Although combining several pathways increases resilience, it also raises the price of the system.
Mesh topologies are primarily used because they are dependable. Nodes are particularly resilient to failures due to their interconnections. No machine malfunction has the power to shut down the whole system. One of the factors making this a preferred topology choice is the lack of a single source of failure. This configuration is also extremely secure.
Star Topology
Every network component inside a star topology network is connected directly to a hub, switch, or other central nodes. The main hub functions as a server and the connected nodes act as clients in this topology. The central node can send packets to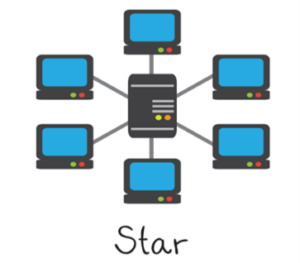 other nodes in the network after receiving them from connecting nodes. A star network is another name for star topology.
Utilizing this network topology has many advantages, one of which is that it reduces the effect of a single failure point. Every connecting node in star networks is kept apart from all other connecting nodes. The effectiveness of other connecting nodes in the same network is unaffected if one of them fails. Additionally, adding and removing individual elements from networks makes it easier.
Hybrid Topology
A mix of more than one topology constitutes a hybrid network topology. Hybrid topologies often offer excellent flexibility due to their ability to support various settings. For instance,various departments within the same firm could use specialized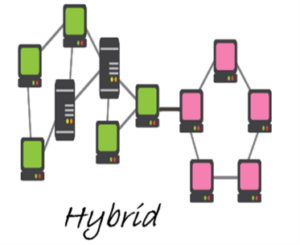 network topologies better suited to their network requirements. Scalability-wise, hybrid topologies are excellent. They are suitable for larger networks due to this feature and offer numerous benefits.
Final Thoughts
Your business's network topology decision should be based on your consumption requirements. Your network's node count will decide whether you can use a bus topology or if you'll need to implement a mesh or hybrid design that is more complex.
A topological network management solution could increase productivity and reduce costs. Additionally, it might assist in freeing up the resources and encourage quicker network engagement by your team. Network topology is, thus, great for organizations of all types and sizes in some way, and you should use it when setting up a network connection.