In the most basic form, a service level agreement (SLA) is a contract or agreement that formalize a business relation, or part of the relationship, between two parties. Most often it takes the forum of negotiated contract made between a service provider and a customer and defies a price paid in exchange for an entitlement to a product or service to be deviled under certain terms, conditions, and with certain fancily guarantees.
---
---
The TeleManagement Forum's SLA management Handbook defines an SLA as;
Formal negotiated agreement between two parties, sometimes called a service level agreement.
---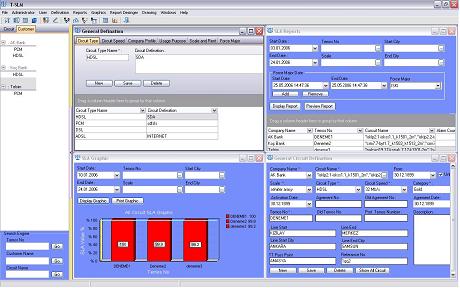 ---
Base on the SLA definition TTG's T-SLM (TTG-Service Level Management) tool provides real-time clear view and control over the operation, and delivery of agreed service based on Service Level Agreements.
SLA Manager enables organizations to create SLA KPIs, KQIs and manage their network performance. Users can form SLAs by selecting the KPIs and KQIs defined in the platform, as well can generate their own formulation of SLA. Based on defined SLA can create alerts and report on all KPIs and KQIs. All these are achieved throughout using simple graphical user interface and point-and-click.
T-SLM functions are:
Forming customers and agreed SLAs criteria. If there are cost metrics, or process definitions related with the service, these are captured and then automated by T-SLM Manager.
Presenting the results and progress of these services to users. This is accomplished through using SLA dashboards, scheduled reports, and automated alerts.
T-SLM tool enables you to manage customers' SLAs as well as operational and service-centric SLAs.
The customer-centric view of a service allows you to see a range of services and operational performance for each customer. Such as;
· Overall Qos delivered
· Overall SLA compliance
· Customer satisfaction
· Network Performance
· Operation performance
· SLA reporting
· SLA reconciliation
T-SLAM also helps you to focused concentrate on the execution of the SLA as a business case within the overall SLA strategy.
According to us SLA only serves to exceed the expectations of customer. To archive this T-SLAM ensure full visibility of customers SLAs criteria.
Key Benefits
Solve potential performance problems before SLAs are violated
Reduce churn by minimizing SLA violations
Satisfy customers by ensuring the performance of offered services
Improve customer satisfaction by providing visible proof of SLA com