TERM is an enhanced CEIR (Central Equipment Identity Register) tool and a database of the IMEI numbers of blacklisted and whitelisted handsets. Keeps unapproved, software changed, illegal and stolen devices in this database format ready for querying. Allows the mobile devices to enter the network according to device status. TERM is designed specifically for Telecom Regulatory authorities.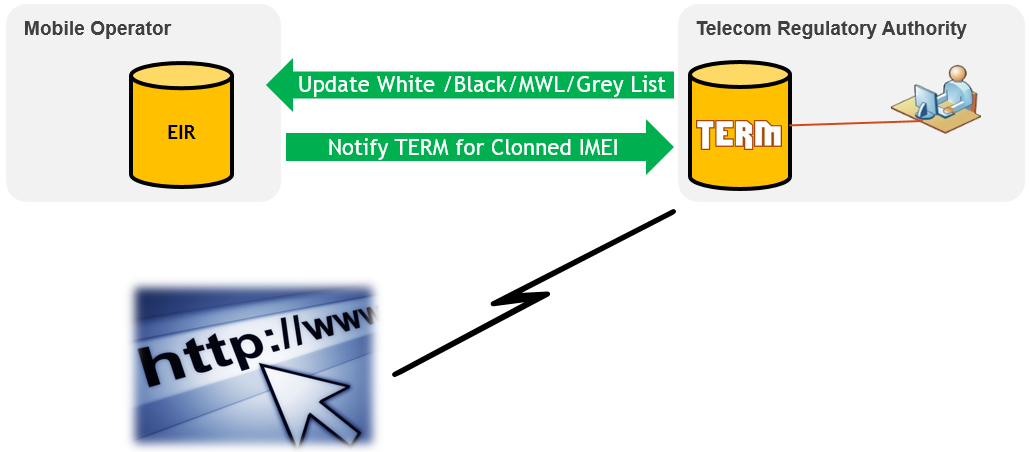 BASIC FUNCTIONS
Detection of GSMA registered valid IMEIs
Customization according to Telecom Regulatory Authority requirements
Enhanced SIM Box detection capability
Enhanced Reporting possibilities allowing the users creating their reports dynamically
Enhanced Log Tracing system for every single transaction
Level based user management possibilities including out-of-authority users such as Importers Module or PIRM users
User based, access permission based and IP based system security
Clone Analysis & Simbox Detection.
MODULES
PIRM (Personal Import Registration Module)
UMM (User Management Module)
IM (Importers Module)
RM (Reporting Module)
LTM (Log Tracing Module)
CCM (Customer Care Module)
AAM (Administration & Approval Module)
UMM (User Management Module)
PIRM allows the subscribers to register their devices bought in abroad
The process flow can be designed according to the law of launched country
The registration application is carried out by an authorized users
Process prerequisites :
Scanned document upload
Passport or Identity card number
Name/surname
GSMA & TERM Approved IMEI (dual IMEI for dual SIM devices)
UMM (User Management Module)
UMM user can manage all the access on TERM
UMM User can:
Create company
Create user access group
Create users
Define departments (for Telecom Regulatory Authority users)
Update/delete users
Update/delete companies
Update/create user access groups
Only TERM root user can manage UMM users for security reasons
IM (Importers Module)
Registered importers where IM users are created by authority can login to IM GUI
Level3 IM users are created by UMM user and can:
Create Level4 users who are the employee of the importer company
Create an application
List all of the applications created by relative company
Monitor the phases of the related companys' on going applications or
Can see the details of applications
Static IP restrictions are applied during login process
Importers applications require some scanned documents such as:
Invoice/Preforma Invoice
CE certifications
Pre-defined format Excel sheet of IMEI /Brand & Model Name as described in GSMA database
IM (Importers Module)
RM users can be defined in two groups:
One who has administration privileges
One who has monitoring privileges
Administrator users can :
Create
Schedule
Assign
Monitor a report
Reports can be :
Scheduled where the result is mailed to assigned users OR
Run by assigned users
Reports including variables are available
LTM (Log Tracing Module)
This module is used for tracing the details of any transactions on TERM
Grid based interface allow user to filter the data according to log search criteria of the user
One can filter:
Project
Module
Method
DB Command (Update/Delete/Insert/Select)
Date
User
IMEI
Operator
CCM (Customer Care Module)
CCM module is used for blocking or unblocking of an IMEI for lost & stolen conditions
This GUI allows the user to monitor:
The current position of an IMEI
List of CCM blocking/unblocking logs
SMS sent to the subscriber
This GUI allows the user :
Apply for blocking of an IMEI by following identity confirmation steps
Apply for unlocking of an IMEI by following identity confirmation steps
AAM (Administration & Approval Module) 
Authority approval for:
PIRM applications
IM applications
CCM applications
Listing applications with filtering availability
Availability for List Changes of an IMEI
Availability for querying of :
IMEI on the whole system
TAC from GSMA database
LIST MANAGEMENT 
Authorized users can create/update/delete/insert the black/white/gray lists and send the lists to the operators
List Management interface consists of below menus
Create List
Send List
History
WEB PORTAL
WEB Portal will be open to all consumers and content can be as follows:
News and Announcements
Information Sheets (General information and regulations)
Individual application and notification inquiry for an IMEI
Contact information
Link to for queries such as CCM ;PIRM;IMEI