NEWS
21.09.2021
PAGETEL- Providing infrastructure services to ASELSAN, ROKETSAN and HAVELSAN, which are among the pioneers of the defense industry in Turkey.
https://www.pagetel.com.tr
As a subcontractor of PAGETEL, TTG Int.ltd has been developed, tested, and delivered the KHAS and RLAS softwares.
About the EIRS- Software Supported Radio Link Shelter for Portable Early Warning Radar Systems. The system consists of sub-components KHAS and RLAS modules.
KHAS
• It has an important role in ensuring the sustainability of communication between Radar and TSKnet.
• Transfers the data received over the radar to the RLAS system.
• It plays a key role in observing the devices in the radar system from a central point.
• Periodically checks the health status of the peripherals of the radar system, possible error
• Informs the end user of the problem by reporting the problem to the Radar Maintenance Computer.
• Starting the system with 5 different configuration options according to the point where is located in the architecture has the feature. In this way, it prevents unnecessary operation of the devices, and power consumption in field conditions keeps it at optimum level.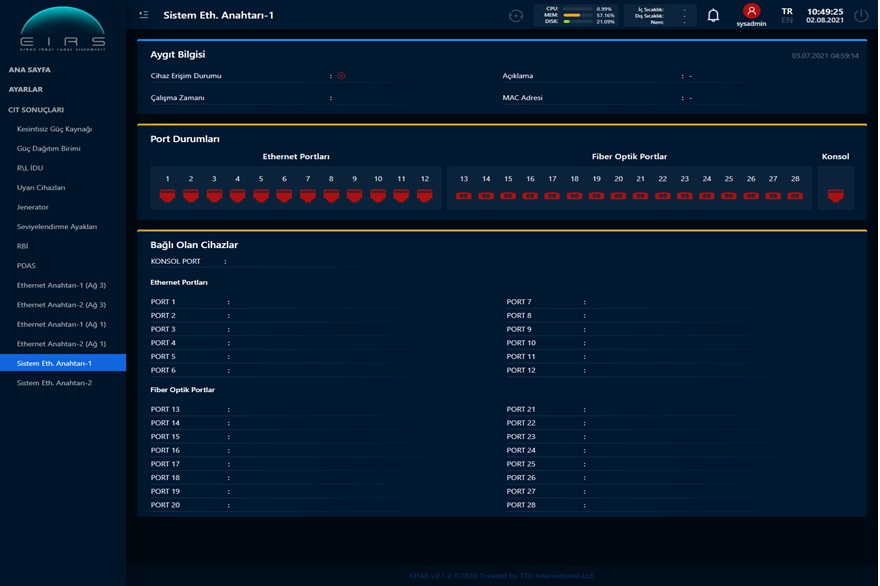 RLAS
• It provides wireless communication between KHAS and TSKnet at distances over 50 km.
• It is a first in Turkey with its feature of providing automatic installation (Auto LOS) of two mutually independent and unaware points over MW link.
• Allows analysis of healthy communication by simulating factors such as distance, altitude, antenna diameter provides.
• Periodically checks the health status of peripherals and notifies the end user of possible errors.