The Master Information Block (MIB) in LTE
In the context of Long-Term Evolution (LTE) wireless communication systems, the Master Information Block (MIB) holds a unique and vital role. Unlike the Management Information Base (MIB) used in Simple Network Management Protocol (SNMP), which is a database structure to manage devices in a network, the LTE MIB serves a different purpose.
The LTE MIB is a broadcast message transmitted by the eNodeB, the base station in LTE networks. It contains essential system parameters that are crucial for a mobile device, known as User Equipment (UE), to connect and communicate with the network. These parameters include channel bandwidth, PHICH configuration, system frame number, and more.
Transmitted via specific channels such as BCCH, BCH, and PBCH, the MIB ensures that the UE can quickly access the necessary information to initiate the connection process. The periodicity of the MIB transmission and its structure are standardized to facilitate seamless communication across different devices and network configurations.
In summary, the LTE MIB is a fundamental building block in LTE technology, providing the initial system information required for network access and interaction. Its role is distinct and unrelated to SNMP-MIB files, focusing solely on the facilitation of mobile communication within the LTE framework.
Importance of the Master Information Block (MIB) in LTE
Why is LTE-MIB Important?
The MIB in LTE is a cornerstone for the initial communication between the User Equipment (UE) and the network. It serves as a gateway for the UE to access essential system parameters, which are vital for establishing a connection.
What Does It Do?
The MIB contains critical information such as:
Channel Bandwidth: The available bandwidth for communication.
PHICH Configuration: Physical Hybrid-ARQ Indicator Channel settings.
System Frame Number: A unique identifier for synchronization.
These parameters guide the UE in understanding the network's structure and how to interact with it.
How Can We Measure It?
Measuring the MIB involves analyzing its transmission and reception. Tools and software designed for network analysis can capture the MIB and decode its contents. This allows network engineers to verify the correct configuration, ensure proper synchronization, and diagnose potential issues.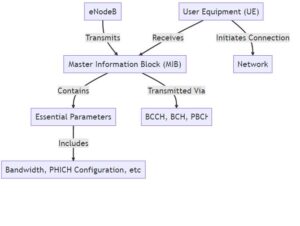 Further Reading
For a more comprehensive understanding of the MIB in LTE, you may refer to this blog post that provides an in-depth analysis of its structure, functionality, and significance in the LTE network.
In summary, the LTE MIB is not just a set of parameters but a vital communication bridge that enables the UE to connect and interact with the network. Its precise configuration and periodic transmission are crucial for the seamless operation of the LTE system.
Stay up to date with feature updates by following TTG Int blog.